Joint, voluntary WO and IPW seal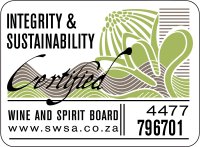 A great advantage for South Africa and a world first. South Africa will have a visual guarantee, not only for the integrity of origin and/or vintage year and/or cultivar, but also for sustainable production and traceability up to product level. The Wine and Spirit Board currently runs two certification systems: Wine of Origin (WO) and Integrated Production of Wine (IPW). For WO a certification seal has been in existence for many a year, but there is no seal for the much younger IPW system for sustainable, environmentally friendly production. After wide consultation it was decided to make an alternative seal, which covers both WO and IPW, available as from the 2010 harvest year.
The existing WO seal, which certifies origin, vintage year and cultivar, will still be available to producers who do not wish to make use of the new seal or who only comply with WO requirements and not IPW requirements. The new seal is an alternative seal, which will certify for both IPW and WO. This means that there will still only be one seal on a container, depending on which aspects are wished to be certified for – only WO (current seal), or both WO and IPW (new seal).
The new scheme is called Sustainable Wine South Africa and you can access the website at www.swsa.co.za. This URL will be on the seal and consumers will be able to go to the website, enter the seal numbers and trace their bottle of wine all the way back to the IPW practices in the vineyard.